Best Buy Gift Card Discount - 6.00% off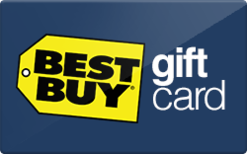 Current Discount
6% Off
Average Discount
9.6% Off
Advice : wait
Buy Best Buy gift cards discount deals for 6.00% off. Save on top of coupons and sales by comparing resellers to find the highest savings rate

Best Buy sells electronics, computers, appliances, cell phones, video games & more new tech.

Buy a discounted gift card to save on top of their sales and promotions. This works like cash so it can be used to get a discount on Samsung TVs and Apple devices like the iPhone. BestBuy giftcards can be used online on BestBuy.com or in-stores.

Notify When Price Drops
Desired
Email
Best Buy gift card frequently asked questions
How many Best Buy gift cards can I use on one purchase?
Best Buy in-stores has a limit of 15 gift cards can be used on one purchase. Best Buy Online purchase has a limit of 10 gift cards per purchase.
Can I just make a purchase at Best Buy with multiple gift cards and return to combine the gift card?
Yes. To combine multiple Best Buy gift cards into one consolidated Best Buy gift card, return the item in-store and ask to have it refunded to a new gift card. This consolidation method will not work for online purchase and returns. If you return or cancel a Best Buy order online, Best Buy will refund back to the original gift cards.
Where do I find actual good deals at Best Buy?
Deal sites like Spoofee Deals alerts people whenever a significant price drop or price mistake is detected on Best Buy's items.
How else can I get a discount at Best Buy?
How do I check my Best Buy gift card balance?
Check the balance of your Best Buy gift card online by going to the online Best Buy gift card balance checker and entering your gift card number. You can also check the balance over the phone by calling Best Buy at (888) 716-7994 and providing Best Buy with your gift card number.