Home Depot Gift Card Discount - 10.00% off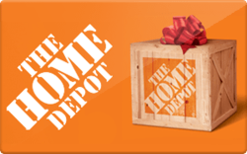 Current Discount
10% Off
Average Discount
10.1% Off
Advice : BUY
Buy Home Depot gift cards discount deals for 10.00% off. Save on top of coupons and sales by comparing resellers to find the highest savings rate

Gift Cards work at any Home Depot retail store or online at homedepot.com. These discounted gift cards can be used along with promo coupon codes, sales, military and moving discount. Instantly save on home projects you're working on by investing in a discounted giftcard.

You can also find a 10% off coupon on eBay which you can combine stack with a discounted gift card.

Notify When Price Drops
Desired
Email
Home Depot gift card frequently asked questions
Where can I get Home Depot coupons to maximize savings?
The Home Depot sends coupons especially if you just moved. You can also buy Home Depot coupons from resellers. The Home Depot coupons comes in 10-15% off printable coupons. Customers can use their discounted The Home Depot gift cards on top of the coupons to maximize savings
How many gift cards can I use at The Home Depot?
There is a limit of 10 gift cards that can be used on one transaction online. However, there are no limits to the number of gift cards if you shop at The Home Depot in-stores.
Can I combine or consolidate my Home Depot gift cards?
A workaround to the 10 Home Depot gift card limit online is to make a purchase using multiple gift cards and making a return in-stores. This will give you a new secure Home Depot gift card.
Does The Home Depot gift card expire?
Home Depot gift cards do not have an expiration date or fees. However, if you bought Home Depot gift cards from a third party, there is always a risk that someone else can use the gift card. We recommend making a purchase at The Home Depot using the gift card and returning to get a new gift card with a secure number from Home Depot.
How do I check my Home Depot gift card balance?