Target Gift Card Discount - 8.00% off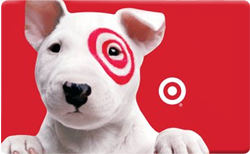 Current Discount
8% Off
Average Discount
8.7% Off
Advice : wait
Buy Target gift cards discount deals for 8.00% off. Save on top of coupons and sales by comparing resellers to find the highest savings rate

Target sells almost everything from home goods, clothing, electronics, to flowers.

Buy a discounted gift card to save on top of sales and promotional coupons. Giftcard works in-stores and on Target.com

Target gift cards can be loaded onto your Target mobile app for convenience

Notify When Price Drops
Desired
Email
Target gift card frequently asked questions
Does Target gift cards ever expire?
No, Target gift cards do not expire. No fees. No expiration. There is however a risk that any gift card bought from third party would stop working. We recommend transferring your new Target gift card value over to your gift card using the Target Gift Card Merge Tool. Once balance is transferred, you don't have to worry about someone else using your balance.
How many Target gift cards can I use in one purchase
No limits. You can use many Target gift cards as you'd like in-store or for online purchases. To make this process simple, merge all the gift cards into one using the Target Gift Card Merge Tool and use your Target wallet to make the purchase.
Are Target gift cards safe to buy from third party?
All the resellers above offer a guarantee timeframe, but we recommend transferring the balance to another gift card as soon as you received them using the Target Gift Card Merge Tool to avoid any issues.
What if I cannot transfer or merge the gift cards to my account in the Target App?
Target cards sold on third party sites may not always be able to be added to your Target app. In the event your app does not allow you to apply it to your account, it can still be used online at Target.com or in-store by having the barcode scanned.
How do you get a discount at Target?
Target shoppers that have a Target Red Card save 5% off everything at Target. You can sign up for the Red Card here to get 5% off everything. We recommend buying the discounted gift cards from the resellers above to get a 10% off discount instead of the 5% offered to Target Red Card holders.
How do I check my Target gift card balance?
Check the balance of your Target gift card online by going to the online Target gift card balance checker and entering your gift card number. You can also check the balance over the phone by calling Target at (800) 544-2943 and providing Target with your gift card number.