Walmart Gift Card Discount - 5.00% off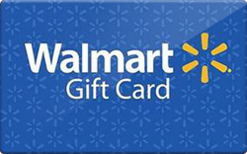 Current Discount
5% Off
Average Discount
7.6% Off
Advice : wait
Buy Walmart gift cards discount deals for 5.00% off. Save on top of coupons and sales by comparing resellers to find the highest savings rate

Walmart gift cards can be used online on walmart.com and in-stores.

No matter what you're looking for, find it at Walmart. Buy more and spend less on decor for your home and garden or treat yourself to tech toys and games for the whole family with a discount gift card. The company that promises great prices just got even better. Cards are valid in-store and online, making it easier to find exactly what you're looking for.

There is a limit of 5 gift cards per order for online purchases.

Notify When Price Drops
Desired
Email
Walmart gift card frequently asked questions
How many Walmart gift cards can I use on one purchase?
There is a limit of 5 Walmart gift cards per order for Walmart.com online purchases. There are no limits to how many gift cards can be redeemed if purchase is made in-stores.
Can I combine multiple gift cards into one?
If you have two or more Walmart Gift Cards, you can consolidate or combine them by using them to purchase one new Walmart Gift Card that has a balance equal to the sum total of the Walmart Gift Cards you currently have. If the store does not allow the purchase of a gift card with a gift card, you can just buy an item using multiple gift cards and return it to get one gift card with the total amount back.
Does Walmart gift cards expire?
Walmart Gift Cards Do Not Expire. Walmart Gift Cards never expire. No fees.
How does a Walmart gift card work?
If you have a Walmart gift card, you can use it to purchase any items sold at Walmart stores or on the Walmart website. To use your gift card in-store, simply present it to the cashier at checkout. If you're shopping online, you can enter the card number and PIN during the checkout process. Limit of 5 Walmart gift cards can be used per online Walmart transaction.
What are other ways to get a discount at Walmart?
Walmart offers 5% off everything if you make the purchase using Walmart's credit card. We still recommend buying the discounted gift cards when the discount is over 5% since you can earn credit card points on the gift card purchase itself.
How do I find great deals at Walmart?
To find the best deals from Walmart and other giant retailers, keep an eye on deal sites like Spoofee Deals which is constantly monitoring Walmart for price mistakes and drops.
How do I check my Walmart gift card balance?
Check the balance of your Walmart gift card online by going to the online Walmart gift card balance checker and entering your gift card number. You can also check the balance over the phone by calling Walmart at (800) 925-6278 and providing Walmart with your gift card number.