eBay Gift Card Discount - 0.50% off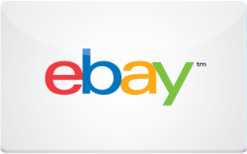 Current Discount
0.5% Off
Average Discount
1.1% Off
Advice : wait
Buy eBay gift cards discount deals for 0.50% off. Save on top of coupons and sales by comparing resellers to find the highest savings rate

Buy a discounted eBay gift card to save on any eBay purchases.

Giftcards will work like cash and can be used in conjunction with coupon promo codes. These will never expire.

Valid only for purchases on eBay where PayPal is accepted. A maximum of $500 in gift cards can be redeemed per order. There is a redemption limit of $500 in gift cards per 30 days for unverified PayPal accounts and $5,000 in gift cards per 180 days for verified PayPal accounts.

Notify When Price Drops
Desired
Email
eBay gift card frequently asked questions
How do I check my eBay gift card balance?