Lowe's Gift Card Discount - 10.00% off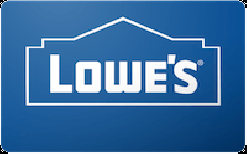 Current Discount
10% Off
Average Discount
10.3% Off
Advice : BUY
Buy Lowe's gift cards discount deals for 10.00% off. Save on top of coupons and sales by comparing resellers to find the highest savings rate

Save on home improvement projects by buying a discounted Lowe's gift card. This works with other coupons and savings.

Lowes carries appliances, paint, patio furnitures, tools, floors, hardware, and many more. Chances are that you probably have one near you just like Home Depot.

You can also buy a 10% off coupon which can be stacked with your gift card discount.

Lowe's Online has a limit of 5 gift cards per order. In-store has no limits

Notify When Price Drops
Desired
Email
Lowe's gift card frequently asked questions
How many Lowe's gift cards can I use on one purchase?
Lowe's Online has a limit of 5 gift cards per order. In-store has no limits. We have had a Lowe's employee scan over 20 gift cards in-stores when we purchased our new refrigerator.
How do I get an employee discount or any discount at Lowe's?
To get a 10% discount on all Lowe's purchases, buy a 10% off coupon to use on your purchase. When it comes time to pay, use the discounted Lowe's gift cards you have purchased to increase your savings.
How do I check my Lowe's gift card balance?
Check the balance of your Lowe's gift card online by going to the online Lowe's gift card balance checker and entering your gift card number. You can also check the balance over the phone by calling Lowe's at (800) 560-7172 and providing Lowe's with your gift card number.