Tiffany & Co Gift Card Discount - 8.10% off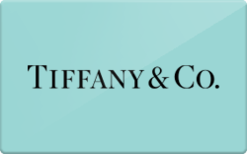 Current Discount
8.1% Off
Average Discount
10.4% Off
Advice : wait
Buy Tiffany & Co gift cards discount deals for 8.10% off. Save on top of coupons and sales by comparing resellers to find the highest savings rate

Tiffany & Company or Tiffany's is an American luxury jewelry. Tiffany's sells jewelry, sterling silver, china, crystal, stationery, fragrances, water bottles, watches, personal accessories, as well as some leather goods

Buy a discounted Tiffany & Co gift card to save money on top of sales and promo coupon codes for the best deal.

Notify When Price Drops
Desired
Email
Tiffany & Co gift card frequently asked questions
How do I check my Tiffany & Co gift card balance?
Check the balance of your Tiffany & Co gift card over the phone by calling Tiffany & Co at (877) 377-7512 and providing Tiffany & Co with your gift card number.