GameStop Gift Card Discount - 12.20% off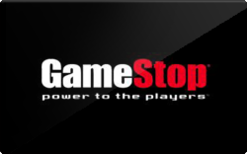 Current Discount
12.2% Off
Average Discount
8.9% Off
Advice : BUY
Buy GameStop gift cards discount deals for 12.20% off. Save on top of coupons and sales by comparing resellers to find the highest savings rate

GameStop is a video game shop. Use discounted gift cards on Nintendo, Playstation, Xbox items, and more.

Just enter the card or account number and PIN on the payment page during the checkout process. The digital gift certificate number and PIN can be found in the email sent to the recipient.

This gift card is redeemable only for the purchase of merchandise only in the U.S. at GameStop, ThinkGeek, EBGames, Babbage's, EBX, and Planet X stores and online at
http://GameStop.com
and
http://ThinkGeek.com

Note that GameStop only accepts up to 2 gift cards per order for online purchases and 10 gift cards per order in store

Buy a discounted Game Stop gift card to save money on top of sales and promo coupon codes for the best deal.

Notify When Price Drops
Desired
Email
GameStop gift card frequently asked questions
How do I check my GameStop gift card balance?