HelloFresh Gift Card Discount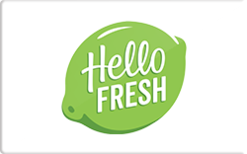 Current Discount
None
Average Discount
None
Advice : n/a
Buy HelloFresh gift cards discount deals for a discount. Save on top of coupons and sales by comparing resellers to find the highest savings rate

Hello Fresh is a cooking recipe and ingredients subscription service like Blue Apron.
Delicious, pre-measured ingredients and simple, chef-made recipes that we deliver to your doorstep every week.

Buy a discounted HelloFresh gift card to save money on top of sales and promo coupon codes for the best deal.

Notify When Price Drops
Desired
Email