UberEATS Gift Card Discount - 10.00% off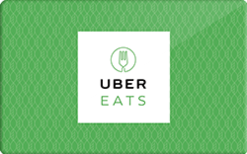 Current Discount
10% Off
Average Discount
3.1% Off
Advice : BUY
Buy UberEATS gift cards discount deals for 10.00% off. Save on top of coupons and sales by comparing resellers to find the highest savings rate

Buy a discounted UberEats gift card to save money on top of sales and promo coupon codes for the best deal.

Uber gift cards work for Uber Eats. You will need to enter the gift card serial number in your payments in the Uber app, but when you purchase food for delivery on the UberEats app, it'll automatically deduct from the gift card balance you entered in Uber.

Notify When Price Drops
Desired
Email
UberEATS gift card frequently asked questions
Are Uber and Uber Eats gift card the same?
Yes, Uber and Uber Eats gift card and credit goes to the same account. For example, if you open the Uber app and apply an Uber Eats gift card, this credit can now be used for Uber or Uber Eats. Vice Versa.
Does Uber or Uber Eats gift card ever expire?
No, Uber and Uber Eats gift cards do not expire or have fees. However, we recommend applying them to your Uber account so the gift card cannot be used by a third party.
How do I check my UberEATS gift card balance?
Check the balance of your UberEATS gift card over the phone by calling UberEATS at (800) 452-8949 and providing UberEATS with your gift card number.