J Crew Gift Card Discount - 4.30% off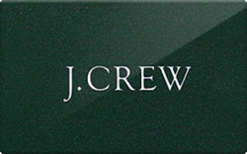 Current Discount
4.3% Off
Average Discount
9.6% Off
Advice : wait
Buy J Crew gift cards discount deals for 4.30% off. Save on top of coupons and sales by comparing resellers to find the highest savings rate

J.Crew or JCrew or Jcrew.com offers an assortment of women's, men's and children's apparel and accessories, including swimwear, outerwear, loungewear, wedding, bags, sweaters, denim, dresses, suiting, jewelry, and shoes.

You can get a 15% off coupon emailed to you immediately for signing up for their newsletter. This coupon works for both in-stores and online. It won't expire for 30 days too

Don't forget, college students and teachers get a 15% off discount. Just show your ID.

Never pay full retail price. J.Crew almost always have some sort of sale around the corner.

Notify When Price Drops
Desired
Email
J Crew gift card frequently asked questions
How do I check my J Crew gift card balance?
Check the balance of your J Crew gift card online by going to the online J Crew gift card balance checker and entering your gift card number. You can also check the balance over the phone by calling J Crew at (800) 562-0258 and providing J Crew with your gift card number.