Jamba Juice Gift Card Discount - 13.70% off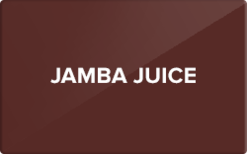 Current Discount
13.7% Off
Average Discount
21.1% Off
Advice : wait
Buy Jamba Juice gift cards discount deals for 13.70% off. Save on top of coupons and sales by comparing resellers to find the highest savings rate

Jamba Juice offers healthy fruit smoothies, all-natural baked goods, steel-cut oatmeal, sandwiches, and other healthy delicious bites.

Discounted Jamba Juice gift cards can be used on top of sales and coupons. JambaJuice has BOGO offers often.

Don't forget to sign up for Jamba Insider to get free smoothies or juice on your birthday and personalized rewards.

Notify When Price Drops
Desired
Email
Jamba Juice gift card frequently asked questions
How do I check my Jamba Juice gift card balance?
Check the balance of your Jamba Juice gift card online by going to the online Jamba Juice gift card balance checker and entering your gift card number. You can also check the balance over the phone by calling Jamba Juice at (866) 473-7848 and providing Jamba Juice with your gift card number.