Disney Gift Card Discount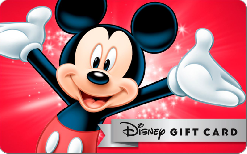 Current Discount
5% Off
Average Discount
4% Off
Advice : BUY
These Disney Cards can be used across the Disney Line from Parks to Stores and even for the Disney Cruise Line!

You'll find magic when you enter a Disney store. All of their beloved characters are here: from Frozen's Elsa and Anna to Big Hero 6's Hiro and Tadashi and, of course, good "˜ol Mickey Mouse and friends. Use your discount gift cards on plush toys, action figures, apparel and dress-up costumes, accessories, collectibles and more. Give the gift of Disney online gift cards, too.

Get a discounted gift card to save on top of coupons and sales!

Notify When Price Drops
Desired
Email