Nike Gift Card Discount - 3.50% off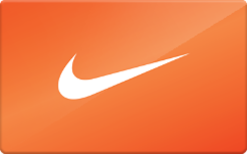 Current Discount
3.5% Off
Average Discount
8.7% Off
Advice : wait
Buy Nike gift cards discount deals for 3.50% off. Save on top of coupons and sales by comparing resellers to find the highest savings rate

Nike gift cards are redeemable for merchandise at any Nike-owned or Converse-owned retail store in the US and Puerto Rico (if purchased on or after Nov. 13, 2002) and on Nike.com (US). Orders placed on Nike.com (US) are limited to the 50 United States and District of Columbia.

Buy a discounted Nike gift card to save money on top of sales and promo coupon codes for the best deal.

Notify When Price Drops
Desired
Email
Nike gift card frequently asked questions
How many Nike gift cards can I use on one purchase?
Yes, you can use multiple Nike gift cards on one purchase. There is a limit of 10 Nike gift cards for a single transaction.
Where can I use Nike gift cards?
The Nike gift card can use on Nike.com online, converse.com, Hurley.com, Nike Apps, and shop at Nike and Converse retailer stores in the US and Puerto Rico.
Does Nike gift card ever expire?
No, Nike gift cards do not expire. If you are seeing an "invalid code" error message, then your Nike gift card code entered is incorrect or the balance is used.
How do I check my Nike gift card balance?
Check the balance of your Nike gift card online by going to the online Nike gift card balance checker and entering your gift card number. You can also check the balance over the phone by calling Nike at (800) 806-6453 and providing Nike with your gift card number.